Shoulders are no longer tired with the Cholet.


Finally, leather that's featherlight to carry.
Just 1.1 lbs! (0.50kg)
Quick Facts About The CHOLET
✅ Featherlight
✅ Nappa Leather
✅ Zipper pouch for security
✅ Internal mobile pocket
✅ Adjustable strap carrying length
✅ Carry more with large bottom design
✅ Absolutely adorable design and color!
✅ Did we mention featherlight?
Last but not least, lovingly handmade.
How's the quality?
Buying from a family-owned business means all the money you spend goes into the craftsmanship and materials of the bag. You can feel the difference in your hands when you receive it.
See why others are loving the Cholet
For a limited time now, we're including the zipper pouch free of charge ($35 in value).
Plus, FREE shipping and EASY returns.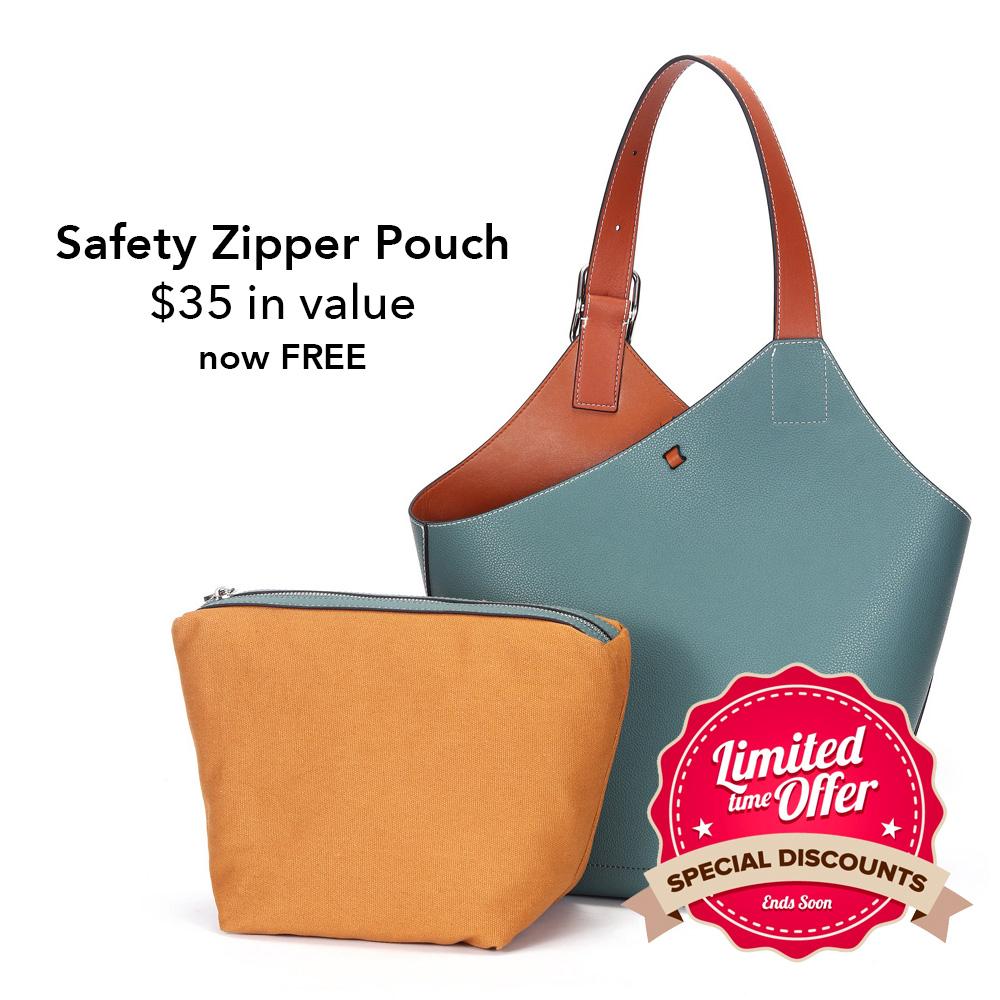 More details of the bag
Nappa Leather gives you a soft feel to your skin while also making it easier to clean after rough usage.
Shoulders are no longer tired with the Cholet. Just 1.1 lbs (0.50kg), finally leather that's featherlight to carry.
Zipper pouch frees your mind, knowing your bag contents are safe.
Quick double lock single adjustable strap - most beautiful when side carrying, just as capable as a handle.
13.7 x 15 with a 6.7 inches large bottom means the bag can carry so much more than it looks.
Internal mobile pocket makes retrieval so easy for quick photo moments.

Choose color here before they're sold out!
Example Product Title
This area is used to describe your product's details. Tell customers about the look, feel, and style of your product. Add details on color, materials used, sizing, and where it was made.
What people are saying about us...
I do not usually shop for handbags online but I did like this bag. It was exactly what I was looking for and I was not disappointed when delivered.
Lucia C
It's a beautiful bag for a great price!! I actually put away my expensive purses and use this more often. Very classy look and sturdy! I will definitely buy this again in the future! The picture says it all! I get so much compliments!
Marilou K.
There is no question that this bag fits the highest standards for any woman's handbag. The leather is beautiful, the overall size is just perfect and the workmanship is first rate. I was so pleased when the photos were an accurate representation of what I was ordering. I will definitely purchase another handbag from MDBM.
Rita T.
Me and my bag ready to travel the world. Nice looking, just the right size to fit the computer, papers, and the stuff you need on a business trip. And to the right price.
Lars-Magnus E
"My favorite bag right now until you come up that will top this one. Everything in this item is classy, quality and unique. I really enjoy the odd shape, not boring color and how make things neat and contained with the internal pouch. I bought this purse thinking it will be a purse for casual occasions but I end up using it everyday for work and casual occasions."
"I so love this bag!! I was actually surprised when I received it because it was a little bigger than expected. Once I put everything I needed in it, I still had more than enough room for extra stuff."
"I absolutely love this bag. It's not too big and not too small, plus holds everything I need without looking bulky and sits comfortably on my shoulder. This bag is very well made, with straight seams and no loose threads. I have no doubt that this bag will last me for a long time to come. I'm very happy with this purchase and highly recommended it."
Nappa leather is type of soft, full-grain leather. It exhibits a natural look and feel that is preserved with a specialized finish. With this finish and pigmentation applied, Nappa leather is more durable and distinct That means that only high-grade luxury vehicles offer it.
It's a micro-fibre material that makes it easy to clean and maintain. A leather interior is not considered for this bag because it will make the bag too heavy for the shoulders.
Height x Length x Width: 13.7 x 15 x 6.7 inches / 35 x 38 x 17 cm 
Strap Drop Length: 5.5 to 11in / 13 to 28cm
Yes, there is a hook and clasp that helps the closure of the bag. If you prefer a zipper closure, an optional zipper pouch can be included.
We ship from New York and London.
We want you to have peace of mind
You'll have 30 days from delivery to follow our quick and easy return or exchange procedure.
You can find more information on Returns and Refunds.
Orders qualified for warranty get 365 days coverage! Our warranty covers manufacturing defects in materials and workmanship.
You can find more information here.
Prefer other bag designs?
See our top 10 bags
TOP 10 BAGS